"Power & Grace in Music, with a Note
on Sincerity," part 2
from a Music: Aesthetic Realism Presentation
of October 26, 1975
by Paul Abel

But that the opposites as one make for that unity and greatness has not been seen. How the opposites do mingle in this musical drama! To begin with, there is the very large matter of outside and within. Gilda and her father are together outside the Inn. But each is alone and absorbed in his own emotions: Gilda in her sorrow and Rigoletto in his fierce revenge. The Duke and Maddalena are inside. Their amorous gaiety, since its mutual, includes something outside themselves. At the same time, it excludes what is outside their pleasure. They are not aware of the presence of Gilda and her father outside. But the Duke has already excluded them from his care and kindness. The audience is outside the drama, but they know a great deal about the inner life of the characters. It is the way that Verdi gives form to all this complexity that makes the feelings and emotions of the persons involved become part of the external world. All this is so dramatic and it is true to what we feel about ourselves. Eli Siegel says in The Aesthetic Nature of the World, "The oneness of in and out is a beginning situation of the world, and it is likewise, sincerity."
Now we come to that part of the Quartet, where the conflicting emotions of the four characters mingle in harmony. Maddalena answers the Duke's impassioned longing with cynical mocking. Her words can be paraphrased, as "Talk is cheap, I know well how false it is." Her melody is sharp and staccato, emphasizing separation and disjunction. (play) Gilda's powerful cry of anguish grows out of that. It begins on a high note, then falls gently and gracefully, in short, sobbing phrases. (play) There's disjunction here too, but we feel the emotion is kinder. Now Rigoletto says "Taci" which means "quiet." And then adds, "Your crying now is useless." His notes are hurried and in the same time value as Maddalena's 16th notes, but the effect is different. They are repeated notes, as relentless as hammerblows. Suddenly his voice rises a half step in pitch. Fierceness becomes unendurable grief in this magnificent modulation, which leads to the first time that all four voices are joined in harmony. As Martha Baird has said of Mozart's Cosi Fan Tutte,… "It gives an extraordinary and very high pleasure to hear these painful things sung of so beautifully." In these wonderful harmonies, the spaciousness of Gilda's melody has both sweetness and nobility. One feels her sorrow is not only for herself but for the man who betrayed her. It is a powerful, graceful statement in the midst of the deceit and trickery of the Duke and Maddalena, and the rage of her father's vengeful feelings. This is from the London Recording of Verdi's Rigoletto with Joan Sutherland, Luciano Pavarotti, Cheryl Mills, and Euget Dorinjo(?).
Power and grace with sincerity are what I would most like to have in a good relation in myself. One of the reasons I was so taken by the subject of power and grace is because it relates both of my professions: music and flying.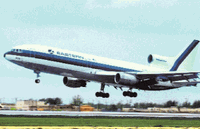 This is a picture of the airplane I now fly. It is a Lockheed 1011, and it carries a maximum of 345 passengers. As you look at this picture, I think that you will agree that the opposites of power and grace are present here also. The three engines—we call them power plants—develop 132,000 horsepower, or 30 times the power of the locomotive used on the Twentieth Century Limited. At the same time, imagine how gracefully this plane travels through the air at about 600 miles per hour. The power and grace of Pavarotti's high B-flat is in the same world and is related to the power and grace of the L-1011 at an altitude of 41,000 feet. It would not have occurred to me to make this relation except for the knowledge of Aesthetic Realism.
It was suggested to me by one of my colleagues that flying has represented power in my life, while music and singing have been on the side of grace. So, there was something in me that wanted to put these opposites together. There was also that in me, which tried to keep them apart. The matter of separation and junction is a large aesthetic question for every person. Musically, Giuseppe Verdi was a master of these aesthetic questions. In the great Rigoletto Quartet, the structure of the world is present, along with the good and evil emotions of the operatic characters.
In the last section of this beautiful recording of the Quartet, the smooth, powerful, line of the Duke's melody mingles with Gilda's sobbing cries, so piercing and so sweet. His melody holds together the tight, stabbing intensity of Rigoletto's music and Maddalena's mocking laughter. Near the end of the Quartet, Maddalena's melody becomes smooth, like that of the Duke, as she capitulates to his wooing. Then the four voices, all so different, climax in a chord of astounding beauty. When I hear in the final notes of this great music how pleasure and torment, power and grace have become one through sincerity of expression, I feel my life has been permanently strengthened. The opposites have spoken well for the world and for music.
*
To return to beginning